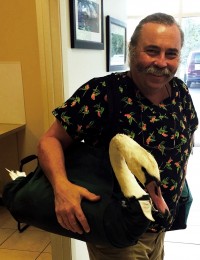 Veterinarian / Founder
R.I.P Dr. Don
• Education: Doctor of Veterinary Medicine, The Ohio State University College of Veterinary Medicine
• Born: New Jersey
• Pets: Dr. Nestle and Dr. Bean, several tortoises, numerous fish and an "in-house" aviary consisting of African Greys, Cockatoos, Cockatiels and Macaws, etc.
Dr. Don grew up in New Jersey, where he attended Wall High School. After graduation, he served 4 years in the United States Navy as a hospital operating room technician. He then went on to earn his Bachelor of Science at Monmouth University in West Long Branch, New Jersey. After graduating from The Ohio State University College of Veterinary Medicine in 1989, Dr. Don relocated to Sarasota, Florida. He worked as a veterinarian in private practice until 1995, when he started Dr. Don's Mobile Vet Service. In 2014, Dr. Don expanded his business as the Laurel Road Veterinary Clinic in Nokomis, Florida.
Dr. Don has over twenty years of experience in medicine and surgery of companion, exotic, and wild animals. He is a member of the American Veterinary Medical Association, Association of Avian Veterinarians, Association of Reptile and Amphibian Veterinarians and the American Association of Fish Veterinarians.
Along with hisexperienced staff at the Laurel Road Veterinary Clinic, he cares for pets andwildlife throughout Sarasota County, administering care (and hugs and doggiekisses) to his patients. Dr. Don volunteers for the Animal Rescue Coalition,Feral Cat spay and neuter program and provides his skill and services to theWildlife Rescue Center of Venice. He has appeared locally on MySuncoast(Channel 7), Animal Outtakes (also on channel 7) in their "Pet of The Week"segment and is a noted authority in a number of publications. In his sparetime, Dr. Don enjoys "hot sauces", fishing, gardening, woodworking and scubadiving.